26 September, 2019
In one of America's busiest ports, a leading stevedoring & warehousing company approached us with the need to enhance the unloading process of their dry bulk cargo. Their focus was on the necessity to make this operation safer and faster comparing it to the current process where pneumatic hooks are used.
Big Bags Handling
For this specific application, the company unloads big bags with a spreader beam. Eighteen evo2 automatic hooks with bumpers with leds were set up on the spreader beam in order to unload big bags carrying 1,5Tn of magnesite and graphite. The evo2 automatic hooks have a lifting capacity of up to 2,5Tn (or over 5,500 lbs.).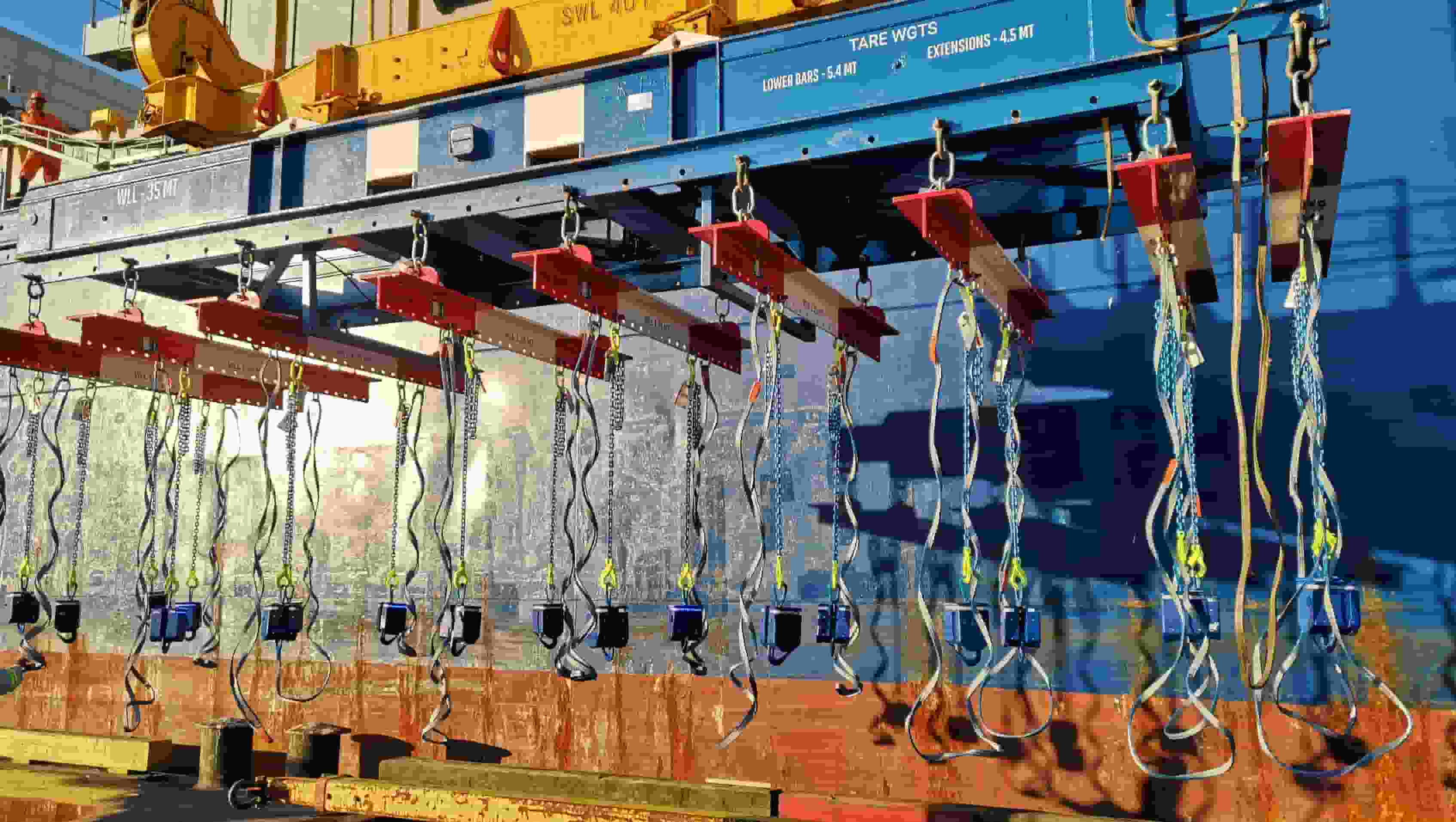 The evo automatic hooks were set-up with bumpers with LEDs. These bumpers are made of flexible polyurethane resin (PUR) with 90 shore A hardness and have a reinforced battery cover. The High-Brightness LED status indicator is an additional safety measure. It shows the lifting hook's status at all times with a bright 4 colour colour-code scheme visible from the operator's position.
The big bags were manually engaged to the automatic lifting hooks with ease thanks to the spring loaded latch which impede the slings from accidentally unleashing from the hook. Once the big bags were safely on the trailer's bed, the load was released remotely thanks to the remote control, keeping workers at a safe distance during the unloading process.
Added benefits include:
1) The evo automatic hooks are faster than traditional pneumatic hooks in big bags handling.
2) All elebia products are fail-safe designed, making it impossible to drop a suspended load.
3) The same evo automatic hooks can be used for different applications in ports (paper pulp, timber, palletized loads, etc.) with no need to modify their parameters.
4) Pneumatic hooks tend to brake down in harsh or very humid weather conditions.
5) Unloading operations are safer thanks to the bumper with LEDs. Stevedores and everybody implied in the process are informed at all times of the hook's status. The bumper also protects the hooks (and the operators!!) against impacts.
Get a clearer view of the whole process in the below video!