NEO20 – Lifting Hook for Bell Furnaces
THE perfect solution for lifting & handling bell furnaces
Ideal for oversized lifting points (up to 100mm Ø)
Remote engage and release of load
Fail-safe Design: Impossible to drop a suspended load
"All or Nothing" principle: Additional safety feature where
NEO lifts load ONLY when closure system is confirmed locked
NEO20 Customers

Bell Furnaces Lifting Hook
The lifting hook for bell furnaces has been designed as a
solution for lifting and transporting bell furnaces,
as well as for oversized lifting points (up to 100mm Ø) such as
rods between plates, holes on a plate, chain slings, lifting bails
and other oversized lifting points.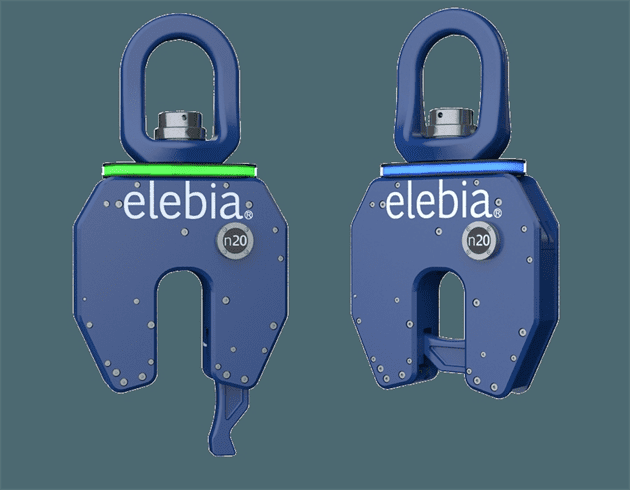 Swivel with Bearings
The bearings allow the Lifting Hook for Bell Furnaces to rotate freely.
If required, the swivel can be set in a fixed position.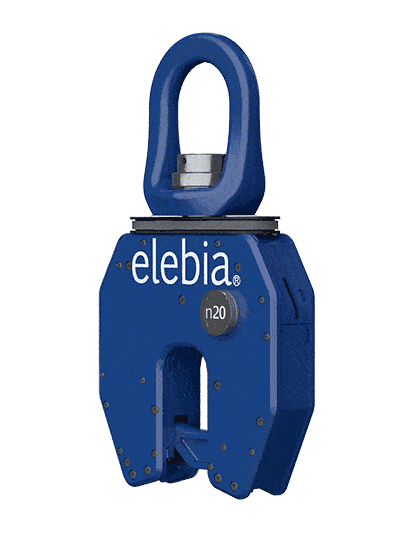 High-Brightness LED
Status Indicator *
In regular lifting operations with bell furnaces, the operator has a limited
line of sight and poor visibility as to the lifting hooks' position and engagement of the bell furnace.
The High-Brightness LED status indicator is an additional safety measure which shows the lifting hook's
status at all times with a bright 4 colour colour-code scheme visible from the operator's position.
Green: Lifting Hook is Open / Release Load
Red: Intermediate: Do Not Lift!
Blue: Lifting Hook is Closed / Lift & Manoeuvre Load
White: Low Battery
* This feature is optional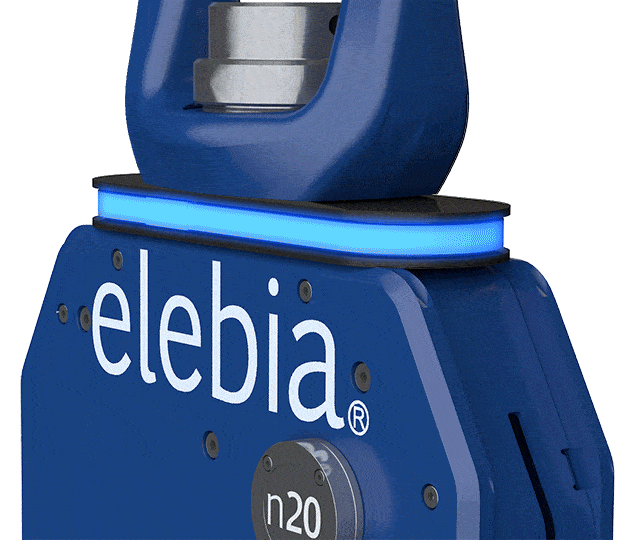 High-Capacity Battery
With the high-capacity battery, a simple 3 hour charge allows for
more than 3.000 cycles or over 250 hours in standby mode.
The 14 segment E-ink charge status display and rechargeable Li-Ion
technology guarantee an optimal autonomy and consumption of the battery.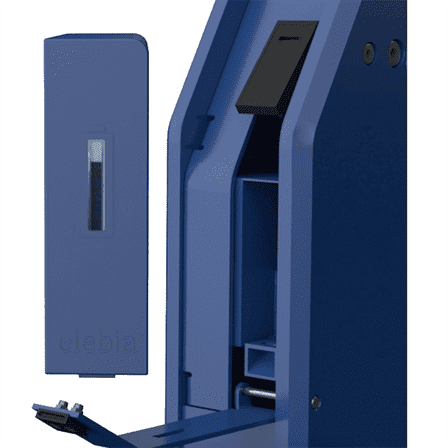 Load Cell *
NEO is equipped with a load cell to weigh the load that is being lifted.
This load cell is precise, reliable, rugged, compact and fully integrated into the
lifting hook, representing no increase in weight or dimensions of the unit.
The load cell in combination with the eMAX remote control transforms
NEO into a precise weighing scale with advanced features.
* This feature is optional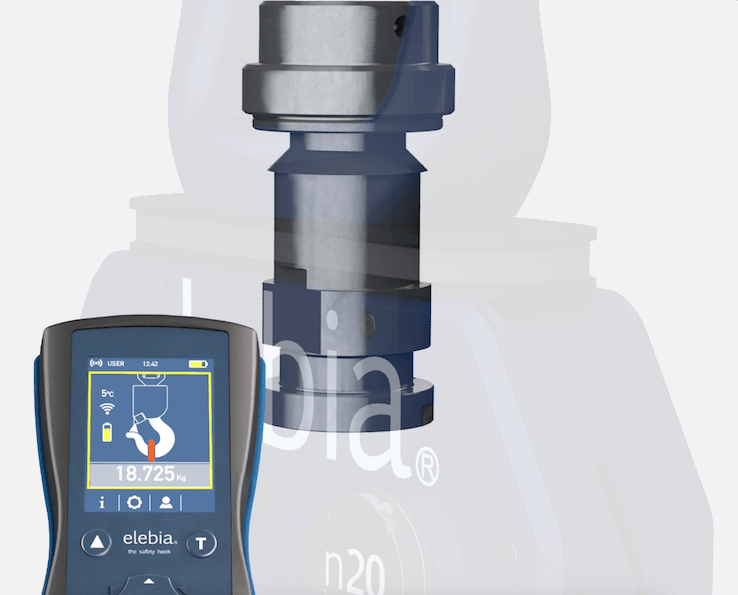 Specifications
| | |
| --- | --- |
| Load Cell Type | Traction |
| Material | Stainless Steel |
| Protection | IP67 (EN60529) |
| Nominal Capacity (Ln) | 20,000 |
| Precision Class | 0.2% |
| Minimum Dead Load | 0% Ln |
| Service Load | 120% Ln |
| Ultimate Load | 400% Ln |
| Total Error | < ±0.2% Sn |
| Repeatability Error | < ±0.08% Sn |
| Temperature Effect: | |
| on zero | < ±0.01% Sn / 5 ºK |
| on sensitivity | < ±0.01% Sn / 5 ºK |
| | |
| --- | --- |
| Creep Error (30 min.) | < ±0.03% Sn |
| Temperature Compensation | -4 ºF to 122 ºF |
| Temperature Limit | -22 ºF to 158 ºF |
| Nominal Sensivity (Sn) | 1 ±0.25% mV/V |
| Nominal Input Voltage | 10V |
| Maximum Input Voltage | 15V |
| Input Impedance | 800 ±30 |
| Output Impedance | 700 ±5 |
| No Load Input | < ±2% Sn |
| Insulation Resistance | > 5,000 M |
| Maximum Deflection (at Ln) | 0.3 mm. |
Autoclose Mode *
A contact sensor detects when load is in position,
and NEO closes automatically.
* This feature is optional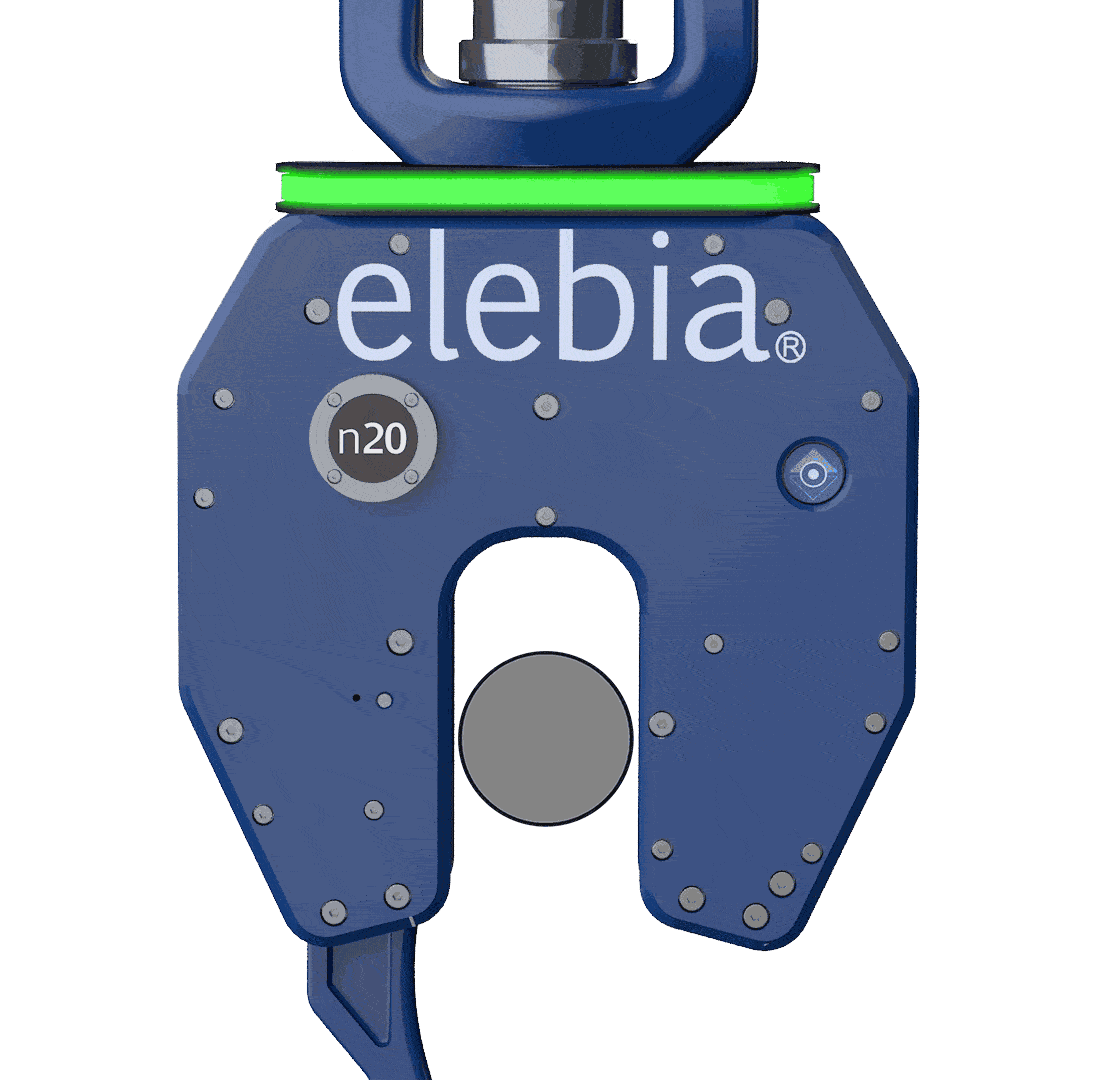 Remote Controlled
Open and close the lifting hook or receive real-time information of weight,
battery level, and other values of the lifting and manoeuvring operation.
Just like the rest of our crane hooks and lifting clamps,
the bell furnace lifting hook can be paired to a remote control.
Metal Tip *
A metal tip can be inserted to facilitate NEO's positioning into a narrow space.
Fabricated from high-strength steel, it is reinforced to protect the the hook against impacts.
* This feature is optional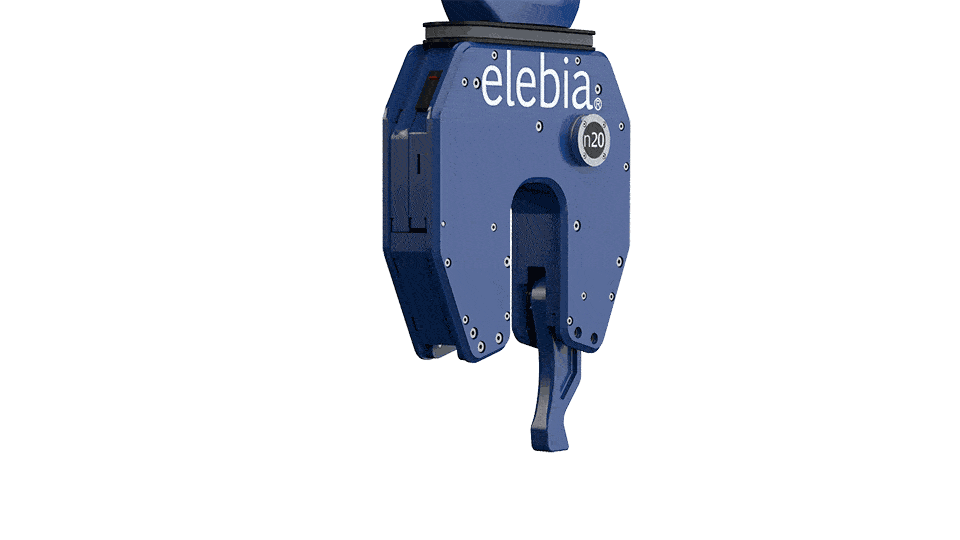 Heat Vest
The Heat Vest is fabricated with a three-layered composite of Fiberglass S.S.,
high-performance Pyrogel® XTE aerogel insulation and Kaowool 1600 paper.
After the external fibreglass fabric, the Kaowool 1600 paper is placed and acts as thermal barrier.
The aerogel insulation is placed afterwords, closest to the NEO20 lifting hook,
to deliver superior thermal protection against corrosion under insulation.
ARC50 Lifting Point
The ARC 50 by Codipro is a lifting point specially designed for handling heavy loads, and particularly suited for lifting moulds.
It has been conceived to be used with the NEO20 lifting hook, although it can also be used in combination with other lifting hooks,
shackles with a diameter of less than 100mm and also with the NEO50 lifting hook.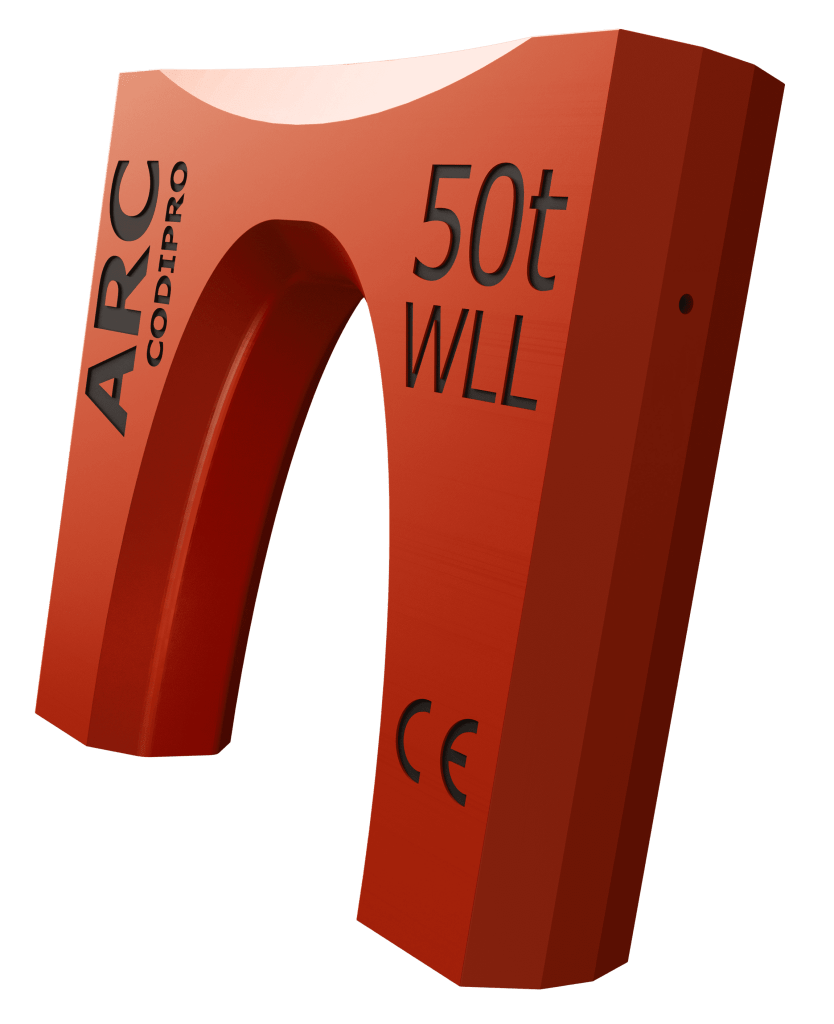 Other Lifting Points
The NEO20 is not only the perfect lifting solution for Bell Furnaces, it is also
ideal for lifting and transferring oversized lifting points (up to 100mm Ø) such as
rods between plates, holes on a plate, chain slings, lifting bails
and other oversized lifting points.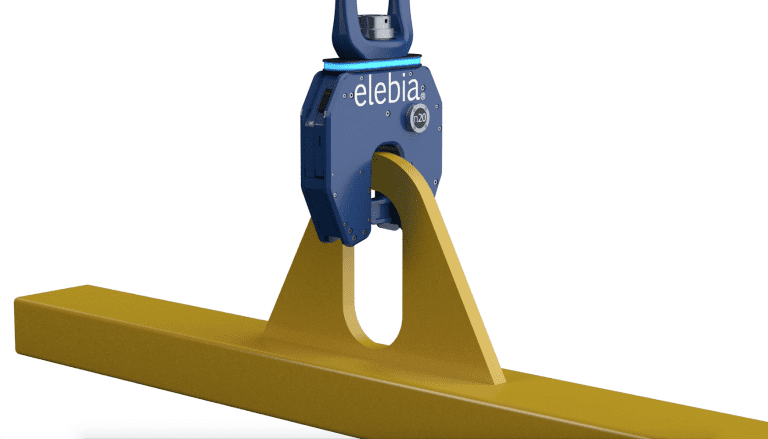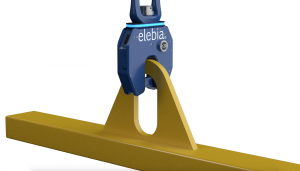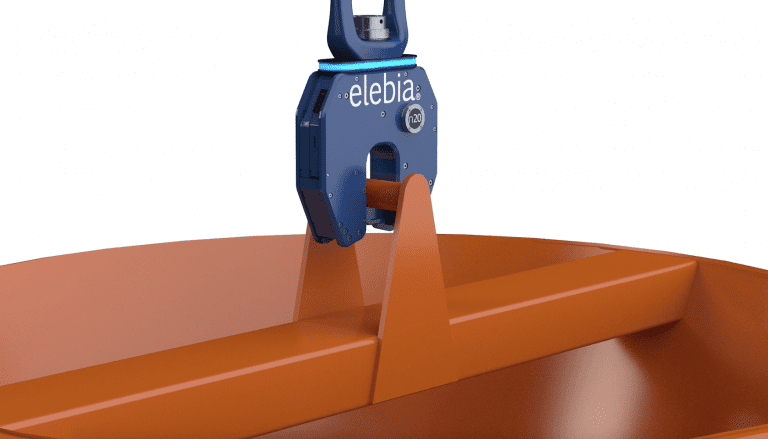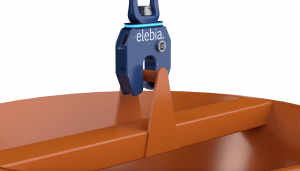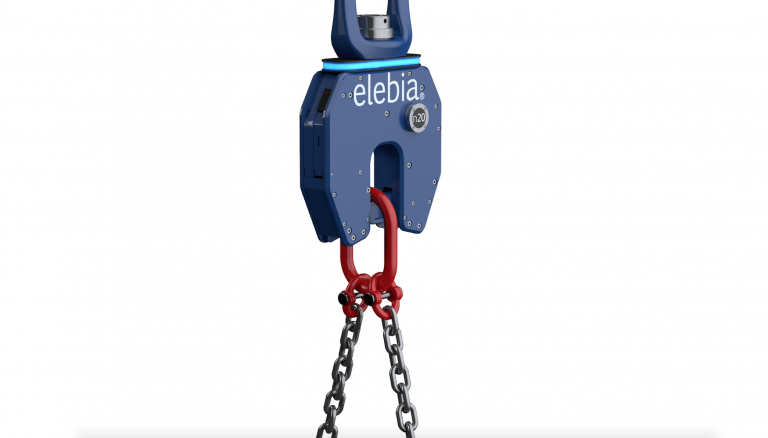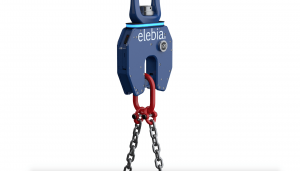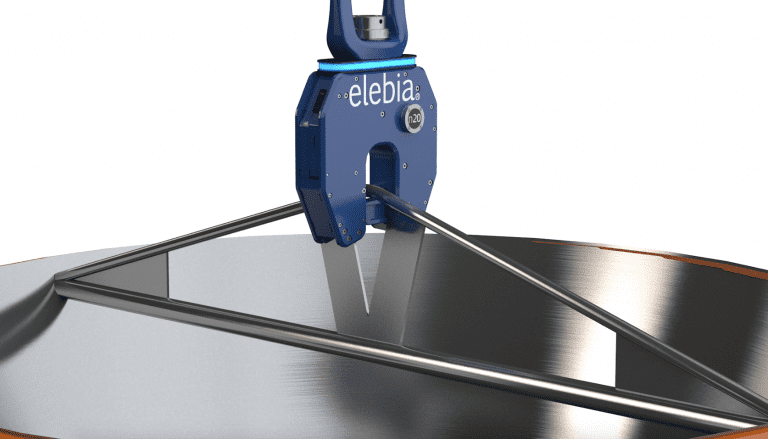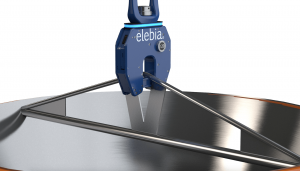 Regulatory Standards
Our NEO20 lifting hook certifies with the following regulatory standards:
ASME B30.20-2010
ETSI EN 303 446-1 V1.1.0
UNE-EN 607301:2013
ASME BTH-1-2017
ETSI EN 303 446-2 V1.1.0
UNE-EN 61000-6-4:2007
EN 10204 3.1.B
UNE-EN 1050
UNE-EN 61000-6-2:2006
ETSI EN 300 220-1 V3.1.1
UNE-EN 13135:2013
UNE-EN ISO12100:2012
ETSI EN 300 220-2 V3.1.1
UNE-EN 602041:2007

Directive on Machine Safety (D2006/42/EC).
EMC Directive (2014/30/EU).
Low Voltage Directive (2014/35/EU).
Radio Equipment Directive (2014/53/EU).
Assurance of Production Quality in accordance with ISO9001.
ARIB Construction Design Certification Number 203-JN0689.
FCC Identifier 2ACLHEVO for Equipment Class: Digital Transmission System.
Each mechanism is delivered with the CE stamp and a declaration of CE conformity.
elebia is a member of F.E.M. (European Federation of Materials Handling).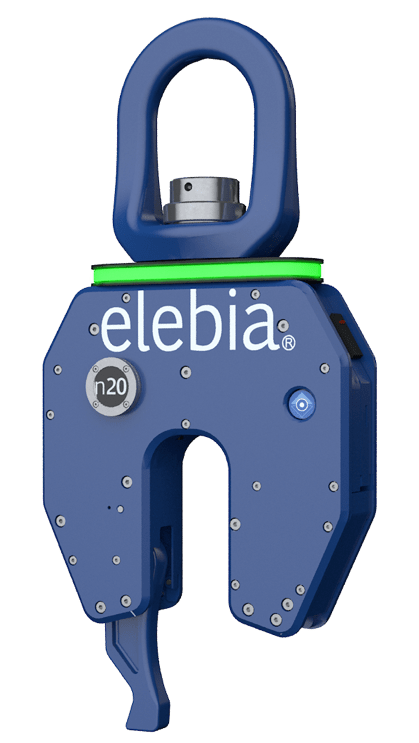 See it in Action!
Lifting Procedure
Electrodes Lifting and Handling
Oversized Lifting Points
Oversized Lifting Points