Construction Industry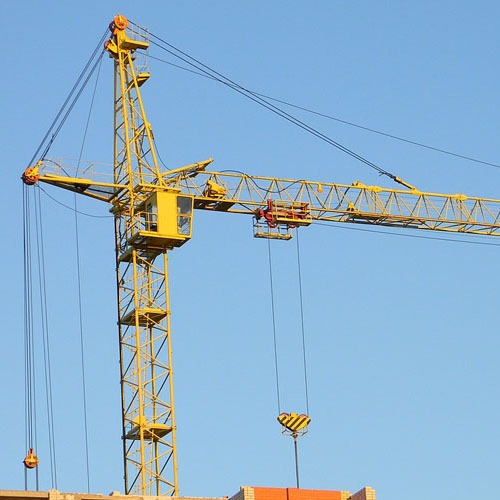 The construction industry includes from concrete prefab to formwork and metal structures, concrete skips and prefabricated modules, pallet forks to rental equipment, and tower cranes to WC modules, amongst many other applications.
Tower cranes are mainly used to raise and distribute loads by using a hook suspended from a cable, which can be moved in a radius of several meters, and at different levels and directions. Thanks to its ability to lift the load high and to the fact that it can be installed on a temporary basis, tower cranes are essential in the construction industry.
Safer and more profitable tower cranes
Handling and control of the tower crane must be performed by skilled operators as the risks associated with the different operations carried out are high. Especially dangerous are the actions related to the engagement and disengagement of the load. These operations not only require a precise crane control, but also a well-coordinated operator and signaller work, to avoid risks related to cargo handling. The coupling and uncoupling activities, aside of tight control, require a lot of operator time, resulting in a decrease in productivity. Intending to avoid risks and optimize both cargo handling and productivity, the elebia
lifting hooks for cranes
are leading a revolution in those sectors where the use of the tower crane is essential. These
crane hooks
allow the remote engagement and disengagement of the load without requiring its direct handling. This means that work can be done in a more safely and comfortably way, also with fewer staff. Moreover, this is a highly reliable system that prevents that the load can be released once it has been engaged. In an innovative and constantly changing environment, automatic crane hooks manufactured by elebia, an industry-leading automation company, are evidencing to be the best choice to improve and optimize tower cranes, not only because they are compatible with any type of tower crane, independently of the manufacturer, but for its simple and fast installation.
What do our clients say?......"There is a definite reduced operation time of the crane..."..."The crane often had to wait until an operator travelled to the load to release the hook. Now the crane does not stand still, and there's no downtime..."..."Murphy's Law is true. You are at the top of the bulding and the concrete skip or the pallet fork is at the bottom… With elebia, this is no longer a problem…"