Sucker Rods for Oil Drilling
5 December, 2018
Sucker rods are steel rods, typically between 25 and 30 feet (7 to 9 meters) in length, and threaded at both ends. They are used in the oil industry to join together the surface and downhole components of a reciprocating piston pump installed in an oil well. In this specific application, various of these rod guides for oil drilling are placed in a rigid basket. From there, they are lowered into a heated kerosene bath solution, where the temperature is up to 82 ºC/180 ºF.
Kerosene is a combustible hydrocarbon liquid which is derived from petroleum. Like all flammable liquids, it is not the liquid part of kerosene that burns, but the flammable vapours that disperse from the substance. Therefore operators and workers are exposed to these vapors and it is considered a potentially explosive atmosphere under North American NEC Class 1 Division 1 Group D regulations. (Areas where ignorable concentraciones of flammable gases, vapors or liquids can exist all of the time / some of the time under normal operating conditions.)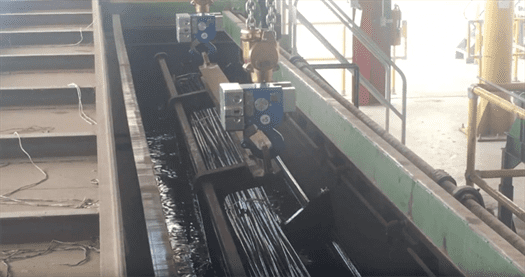 With the use of the 2 evo5 automatic lifting hooks with power magnet & rigid safety latch along with the ATEX configuration, the risk of having operators or workers close to the kerosene bath solution and its vapors is eliminated. The safety hooks are placed on a pneumatic/hydraulic hoist and remotely engage the basket at a distance. The power magnet & rigid safety latch ease the approach and positioning on the rigid basket's lifting points. Instead of the standard safety latch (movable, spring loaded), the rigid safety latch is fixed and non-moveable, forming a complete closed loop along with the automatic hook. This configuration is ideal for applications where the lifting points are fixed, such as the case of the rigid basket's.
Lifting Solution
Once the basket is in the kerosene bath solution, the order to release the basket is sent via remote control to both automatic hooks. This eliminates the need of having to approach the bath solution. Once in place, the basket is disconnected and the sucker rods soak for a specific period of time. The second part of the process is handled in the same way. The automatic hooks are lowered into the bath solution where the rigid basket's lifting points are at sight and automatically engage the load and lift the rods and basket out of the kerosene bath solution and carried to an other area of the process. All of this with no need of any manual intervention on behalf of the operators and keeping them at a safe distance of vapors and other hazards during the complete process.
With this solution for this particular application, once more our automatic lifting hooks minimise risks, enhance safety and increase productivity in lifting operations.
Check out the complete process in the below video.