What are Textile Lifting Slings?
27 May, 2019
Textile Lifting Slings
Lifting Slings are used along with hoists to facilitate the movement of bulky materials from one end to another. Are alse used for lifting a shipping container or shipping container lifting equipment. Types of slings for lifting serve as material-handling apparatus and are not of much value in the absence of cranes, forklifts, and hoists among other lifting devices. As they serve different purposes, they are available in a host of styles and materials.
The wire rope, mesh, chain and synthetic slings are the main types of slings. Textile lifting slings are categorized under the synthetic slings which are popular for their safety, convenience, load protection, and temperature resistance. Steel warehouses, constructions site workers and machine shops are some of the common users of slings.
What are textile slings and what are they used for?
Heavy loads pose a great challenge for manual workers and can take loads of time to move around without the help of loading equipment. Textile slings are designed to make this work easier and they have been largely effective on this end. They provide us for shipping container lifting equipment. They are hooked to hoists and provide handling capabilities for heavy loads. They are used extensively on construction sites especially when the building under construction is bound to have at least a couple of floors.
Colour code of lifting slings
The colour coding system is part of the numerous regulations that the lifting operations industry has put in place to manage the use of different equipment. The regulations require that suitable marks are placed on the lifting equipment for safety purposes. One should know the safe working load limit to reduce the risk of injury they are exposed to. Witho those kind of slings you can lifting a shipping container for example. The sling cannot lift any load that is more than the working load limit. Different colour codes are used to indicate the limits of lifting slings.
Violet slings – maximum load of 1 tonne
Green slings – maximum load of 2 tonnes
Yellow slings – maximum load of 3 tonnes
Grey slings – maximum load of 4 tonnes
Red slings – maximum load of 5 tonnes
Brown slings – maximum load of 6 tonnes
Blue slings – maximum load of 8 tonnes
Orange slings – over 10 tonnes
The maximum loads are also dependent on the type of materials used to manufacture the textile slings. The various lifting slings can support loads up to a particular limit beyond which they may snap causing considerable damage to the load and the sling users. Individuals who fail to stick to the load limit also reduce the longevity of their equipment.
Do textile slings expire?
Time does not single-handedly affect the durability of types of slings for lifting. Weather, use of slings as well as environmental conditions all play an active role in determining how long the slings will last. Storage conditions also influence the overall strength of the string and manufacturers to encourage consumers to provide optimum storage conditions.
Newsletter
Sign up for our newsletter and get the latest news from elebia
Review of textile slings
Textile slings are flexible and versatile but are limited in their loading capacity. The identity label shows the maximum capacity that users should keep in mind. The different environment temperatures may also limit the capabilities of different textile slings. Ice formation in very low temperatures interferes with the integrity of the material of the textile lifting slings and reduces the flexibility of the sling.
Shock loading of textile slings exposes them to heavy forces that exceed the load weight and pose a risk to the integrity of the sling. Sudden stops may have the same effect on the sling. One should also be cautious when working in areas with chemicals. Alkaline chemicals destroy polyester slings though they exhibit great resistance against mineral acids. Acidic environments, however, cause damage to the metal strips in the slings.
types of slings for lifting are also designed for straight line pull. Sideloading introduces a dynamic force that may go beyond the safe load limit and result in injuries and property damage to users. While at it, one should ensure that the load is evenly distributed on the sling. Failure to do this results in unwarranted weight that is likely to damage the sling. Misuse of the sling and lack of maintenance are the other recipes for the sling's breakage.
elebia textile lifting slings
elebia lifting slings can be attracted and oriented automatically thanks to the metal strip within the sling. Tubular, double band and big bag slings are the different options:
The tubular slings have a circular model and are light. They are also nylon coated and easily engage with the crane lifting hooks as they have a wire rope within them. The big bag slings are designed such that remote engagement can be achieved without much hustle. Its handles make this possible. The double band slings are slightly different from the other types of slings as they have magnetized ends.
Strength and durability of the lifting material are always at the back of everyone looking for lifting material. As you choose the best lifting slings keep this in mind to guarantee long-term efficiency in your different lifting jobs.
Products Made For Your Company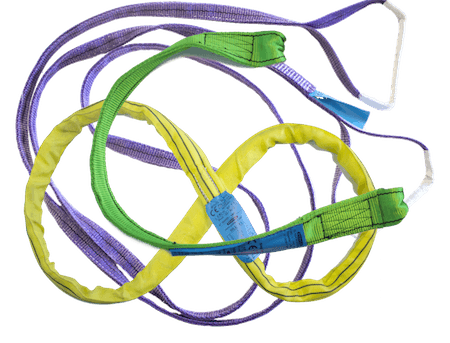 Discover our Textile Lifting Slings