Elebia at Breakbulk Rotterdam 2023: Revolutionizing Lifting Operations
We are excited to announce our participation in the renowned Breakbulk Rotterdam 2023, one of the most significant events in the global maritime and project cargo industry. Elebia, the leading provider of innovative lifting solutions, will showcase its cutting-edge automatic hooks and other revolutionary products at Stand 2H74 in Hall 2. This event presents a unique opportunity for professionals in the industry to explore the future of lifting technology and witness firsthand how Elebia's solutions can transform their operations.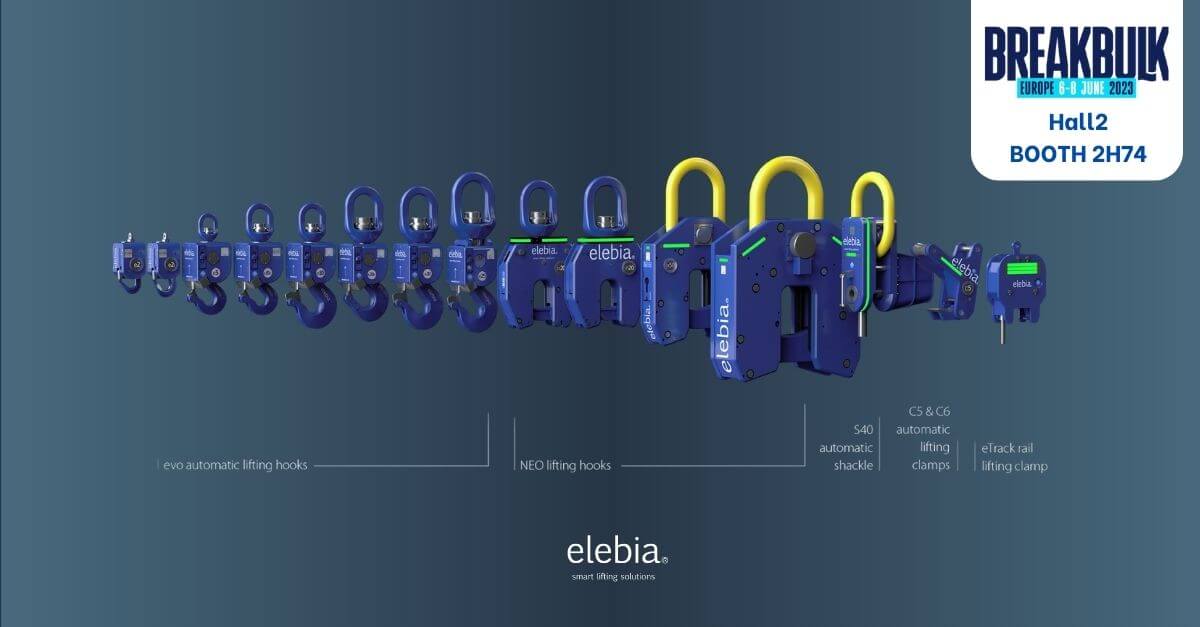 Breakbulk Rotterdam
A Gateway to the World of Ports and Shipping Breakbulk Rotterdam is an international exhibition and conference that brings together industry professionals, experts, and key stakeholders in the realm of ports, shipping, and project cargo. Held in the dynamic city of Rotterdam, Europe's largest port, this event serves as a strategic platform to discuss the latest trends, technologies, and innovations in the breakbulk sector.
Elebia
Leading the Way in Automatic Hooks At Elebia, we are at the forefront of revolutionizing lifting operations with our state-of-the-art automatic hooks. Our innovative solutions are designed to streamline processes, improve safety, and enhance productivity in diverse industrial settings. With breakthrough technologies and intelligent design, our automatic hooks provide a seamless and efficient lifting experience, ensuring optimal performance and peace of mind.
Visit Elebia at Stand 2H74, Hall 2 We invite all attendees of Breakbulk Rotterdam 2023 to visit our impressive stand at 2H74 in Hall 2. Here, you will have the opportunity to explore our wide range of advanced lifting solutions and experience firsthand the transformative capabilities of our automatic hooks. Among our showcased products, you will find:
EVO Range of Automatic Hooks: Our EVO range stands out as the pinnacle of innovation in lifting technology. These automatic hooks offer unparalleled convenience, reliability, and safety. With their intelligent features and advanced functionalities, they optimize lifting operations, reduce downtime, and minimize risks.
C5 & C6 Lifting Clamps for Steel Plates: Designed specifically for handling steel plates, our C5 and C6 lifting clamps provide a secure grip and precise control. These innovative clamps ensure efficient and safe lifting of heavy steel plates, facilitating smooth operations in industries such as shipbuilding, construction, and manufacturing.
Introducing the New S40 Automatic Lifting Shackle: Witness the unveiling of our latest product, the S40 Automatic Lifting Shackle. Engineered with state-of-the-art technology, this innovative lifting solution offers increased versatility and efficiency in various lifting applications. Its automated features and robust design make it an indispensable tool for project cargo and breakbulk operations.
Discover the Advantages of Elebia's Solutions At Breakbulk Rotterdam, visitors will have the chance to witness the advantages that our autonomous automatic solutions can offer. By incorporating Elebia's cutting-edge technology into their lifting operations, companies can minimize risks, increase productivity, and optimize efficiency. Whether it's in the bustling port of Rotterdam or any breakbulk and project cargo setting, Elebia's solutions are tailored to meet the industry's evolving needs.
Arrange an In-Depth Visit or Book a Demonstration Test We encourage all attendees to take full advantage of their visit to our stand by arranging an in-depth visit with our knowledgeable team. Our experts will be available to provide comprehensive information about our products, discuss your specific lifting requirements, and demonstrate the remarkable capabilities of our solutions. For an immersive experience, we also offer the opportunity to book a demonstration test at your company's premises, allowing you to witness firsthand the transformative power of Elebia's products in your own working environment.
Breakbulk Rotterdam 2023 promises to be an exceptional event where industry professionals come together!