DNV GL
is an accredited certification body. They certify the compliance of companies according to a third party standard, such as ISO 9001 (quality management system) or ISO 14001 (environmental management system). In the maritime business area, it classifies, verifies, risk-manages, trains and advises the maritime industry on safety, enhanced performance, fuel efficiency, etc. As a classification society, DNV GL sets standards for ships and offshore structures – known as Class Rules. They comprise safety, reliability and environmental requirements that vessels and other offshore mobile structures in international waters must comply with. DNV GL is authorized by 130 maritime administrations to perform certification or verification on their behalf.
Certification No. 2.22 Lifting Appliances
Our evo5, evo10 and evo20 automatic hooks have been found to comply with the Standard for DNV GL Certification No. 2.22 Lifting Appliances.
With this certification, these three models are accepted for installation on all vessels classed by the certification body.
Loose gears for offshore cranes
With this certification we are assuring a seal of quality of our products, adhering to design verification and certification according to international rules.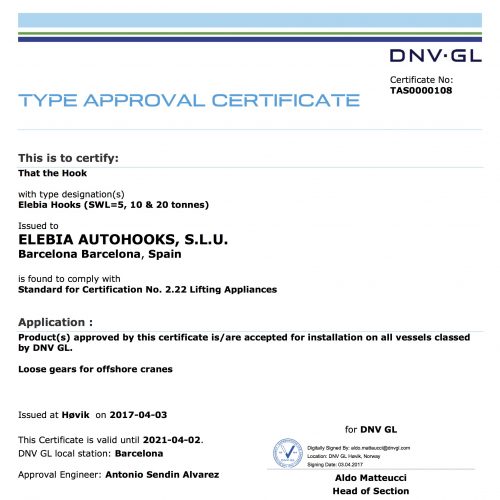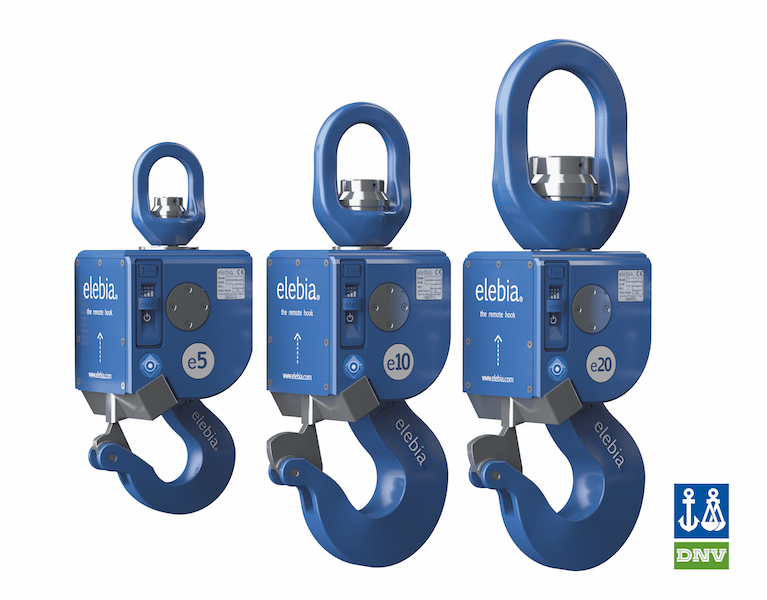 DNV is a global provider of knowledge for managing risk. Today, safe and responsible business conduct is both a license to operate and a competitive advantage. Our core competence is to identify, assess, and advise on risk management. From our leading position in certification, classification, verification, and training, we develop and apply standards and best practices. This helps our customers safely and responsibly improve their business performance. DNV is an independent organisation with dedicated risk professionals in more than 100 countries, with the purpose of safeguarding life, property and the environment.
Standards for Certification
Standards for Certification (previously Certification Notes) are publications that contain principles, acceptance criteria and practical information related to the Society's consideration of objects, personnel, organisations, services and operations. These Standards also apply as the basis for the issue of certificates and/or declarations that may not necessarily be related to classification.