The Best Trucking Companies in the USA
22 September, 2017
The best trucking companies in the USA
The best trucking companies in the USA, as all the industry, is a huge aspect of the US economy. It is estimated that around 18 million truck drivers are currently employed in the USA, and 2015 figures found that commercial trucking generated on average $9,075,000 in revenue.
The United States' trucking industry has historically had a strong relationship with Mexico and Canada as these two countries have import-export relations with the US. However, the ascent of President Trump is likely to have a negative impact on the US trucking industry. A recent trucking related webinar for the series 'State of Freight' argued that despite stating that he is a 'pro business' president, Trump has planned infrastructure developments that he does not have the budget for – unless he takes away funds from industries such as trucking. Let's remember US trucking at its high points, however. Here are the top 5 (and possibly the best trucking companies in the USA) in terms of revenue.
UPS Freight
Also known as UPS Ground Freight, this company is worth $1.25 million. Based in Richmond, Virginia, this company's vehicles are distinguished by their clean, solid white appearance with the UPS shield displayed prominently. UPS Ground Freight is a contender for the title of largest trucking company in the world when we consider companies in terms of revenue. It used to be called 'Overnite', demonstrating its drivers' commitment to delivering goods at all hours of the day and night – a commitment that they still honour despite the name change!
FedEx
Another of the largest and best trucking companies in the US, FedEx is a household name even outside of the States. FedEx is short for Federal Express, reflecting the fact that this company focuses on providing a fast service. FedEx is well known for providing an overnight shipping service. The company also made history by pioneering the use of a parcel tracking system so that users could check up on the whereabouts of their packages. Is this the biggest trucking company in the US in terms of big ideas and technological innovation? One could definitely argue a case for it! If you have ever posted a parcel to the US from another country in the world, chances are that FedEx will have picked it up at the US border and ensured that it made a safe onward journey to the recipient in their home state.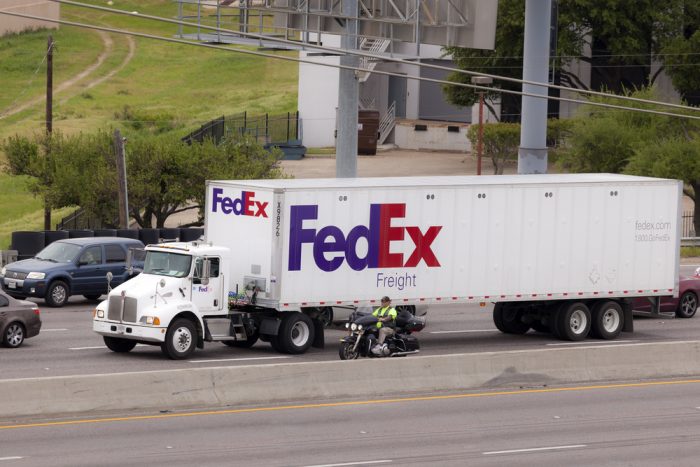 J.B. Hunt
This Arkansas based trucking company was founded by a man named Johnnie Bryan Hunt, and the company still bears his initials. Though this trucking firm started out with just 5 trucks when it opened in 1961, it is now usually rated as around the tenth largest trucking company in the world. J.B. Hunt uses semi-trailer trucks and innovative flatbed trucks to get the job done. Hunt himself died in 2006, and he is now known throughout the world as an entrepreneur who started off from relatively humble beginnings in a rural area of Arkansas known as Heber Springs.
YRC Worldwide
What distinguishes this company from others on this list is the fact that it is not simply a North American company. YRC Worldwide is a trucking firm that operates in companies as diverse as Holland and Mexico. It was founded in the US, however, beginning in Kansas in 1929, and it maintains a strong network of trucks throughout the entirety of the United States. Its roots go back even earlier to the first decade of the twentieth century, when Grover Cleveland Harrell (known usually just as 'Cleve') started up a Yellow Cab Company. This cab company featured horse drawn carriages, but over the years it would develop into the network of trucks operating worldwide that we know of today as YRC Worldwide.
Swift Transportation
Our last entry in this list of best trucking companies in the USA is Swift Transportation, based in Phoenix, Arizona. As well as being one of the largest trucking companies in the US in terms of revenue, many estimates have found it to be the biggest trucking company in the whole nation if we consider fleet size. Swift Transportation deploys more than 16, 000 trucks throughout the USA to perform its operations, which is pretty good for a trucking firm that began as a small and simple haulage company in Utah in the 1940s. Swift Transportation was very much a family firm, as it was started by the truck driver Carl Moyes and then initially run by Moyes and his two sons. Now, however, the company employs in the region of 17, 700 personnel which includes truck drivers, engineers and customer service operatives.