Breakbulk Americas '16 at Elebia mevcut olacaktır
7 September, 2016
Get your ticket with a 25% off and come visit us!
Breakbulk Americas, is the largest exhibition of its kind in the Americas, bringing top-tier shippers together with breakbulk and project cargo service providers.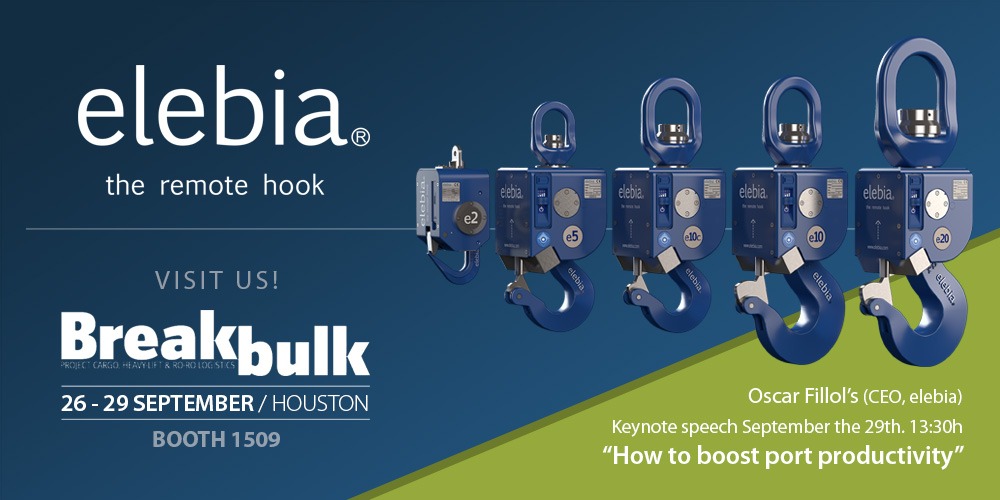 Elebia will come with lots of innovation and new developments and will be proudly presenting the new evo2 autohook to the american people, the most compact in the family, with a safe working load of up to 2.5 tons, and all the advantages and features of the previous evo models.
Furthermore, we will be doing specialized demos and the visitors will also be able to try our hooks and the eMax, our premium remote control (with features such as weighing, activity log file, overload or unbalance alarms).
Come to meet us to booth number 1509 and you will be able to see all our innovative cargo lifting solutions in action and even try them for yourselves.
Attending to Breakbulk will also provide you a unique opportunity to attend to our CEO's Oscar Fillol keynote "How to Boost Port Productivity" on September the 29th at 1:30PM
We look forward to welcoming you to our booth 1509 at Breakbulk Americas 2016 so we can share our knowledge and experiences together.
Using this voucher you will have a 25% discount on the tickets.